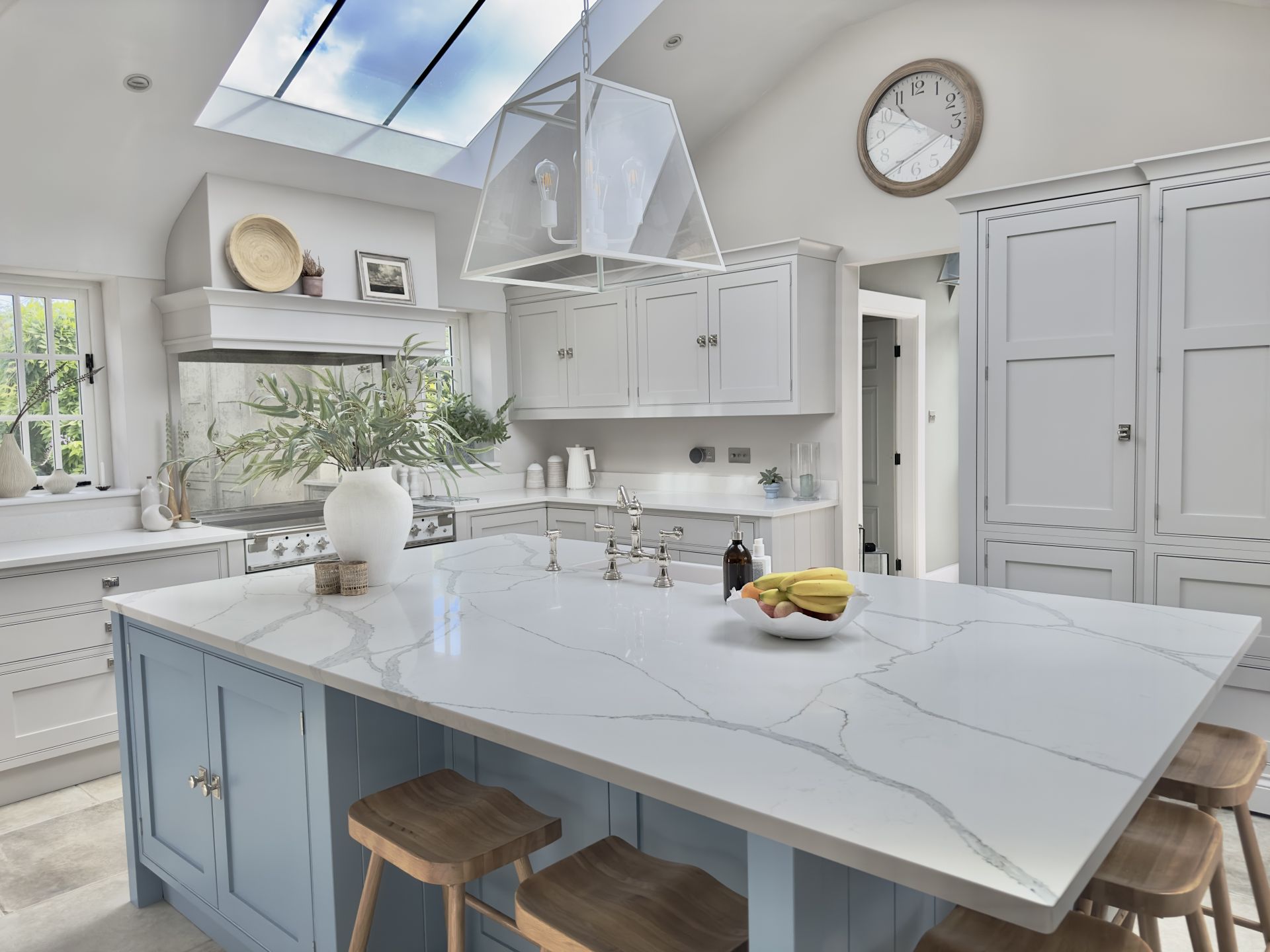 BBC Best Home in Wales
Take a closer look at our Beechmont House project, proudly showcased on BBC Wales' Home of the Year 2022. This kitchen, a creation by Clarendons Kitchens, harmoniously blends Gothic elegance with modern sophistication, complete with bespoke features and a soothing colour palette.
View More
BESPOKE HANDMADE KITCHENS OF CHESTER
---
Specialising in bespoke handcrafted kitchens, Clarendons is an established, family-run business based near Chester.
Our showroom in the village of Lavister is housed within an iconic 250-year-old barn with an adjoining Victorian shop, owned by the family since 1986. Oliver Roden, current company owner-director, succeeded two generations in the woodworking profession when he joined the business more than 25 years ago.
Now recognised nationally for his work, Oliver is the designer and project manager of all commissions, from preliminary pencil sketches through to final installation, personally overseeing all stages and aspects of the process. The binding mantra at Clarendons is pride in both the quality of work and the service provided to customers.
Craftmanship
---
The same approach and standards that underpin the production of Clarendons Kitchens apply to the many commissions we undertake in creating and installing cabinetry elsewhere in the home. Typical commissions are for walk-in pantries, utility rooms, boot rooms, dressing rooms, bedrooms & bathrooms.
Every aspect of our work is genuinely bespoke, with each commission designed & made to order. Our cabinetwork is handcrafted in our own workshop by our team of time-served craftspeople, using a balanced blend of traditional and modern methods. Traditional cabinetmaking skills such as Mortice & Tennon and Dovetail joints characterise much of our cabinetwork.
We work with a wide selection of hardwoods, all sourced from sustainably managed forests. All our finishes are environmentally friendly & available in an almost infinite variety of paints colours & natural wood finishes.
Design
---
Every Clarendons kitchen is unique – expressly designed to customers' specifications and scrupulously measured for a perfect fit. Freed from the constraints of design templates that impair inspiration and innovation for many competitors, each kitchen is designed and made from scratch to guarantee perfection of form and function.
It's an approach grounded in the timeless traditions of craftmanship – an ethos that guides our commitment to design, production and installation, irrespective of whether a client chooses a kitchen with a contemporary edge or something that echoes an older ancestry.
It's strictly the client's choice, and we work closely with them to ensure that their ideas and special requirements are accurately folded into the process. We consult closely with clients to ensure nothing is missed or overlooked. Clients are consulted on all aspects of production and design including paint colours, tiles, worktops materials & lighting.
Reputation
---
For the past 20 years, Oliver has been working closely with homeowners to create their dream handcrafted kitchen, ensuring every detail is managed from idea origination to full kitchen installation.
Our attention to detail and service have meant that we have moved with each family's home, creating new spaces each time one of our close clients move house. We have also been honoured to have crossed generations and designed handmade kitchens for many of our clients' children.
A testament to our reputation has been the growth the business has seen over the past 20 years, with very little advertising other than word of mouth.
Our reputation is something that is as integral to our process as the design, construction, and installation stages of our bespoke kitchens. Its impression will last longer than any kitchen that could be fitted and is something we believe each client feels years after the first pan is put on the stove.